Uptempo User Guide
This user guide explains how to use the Uptempo Android app developed by Stonekick.
Uptempo allows you to alter the pitch and/or speed of any music file on your Android device.
The pro version of UpTempo also allows you to add additional effects such as Equaliser or Reverb to the track as a whole or to a particular section of the track.
Getting Started
The app will open on the Playlist screen. An example track is included when you first open the app. You can use this straight away.
To add your own music press the + icon in the bottom right hand side of the screen. You can open any music stored on your Android device. However the app is unable to open files from music streaming services.
In the pro version of the app you can also create your own recording here to edit in the app.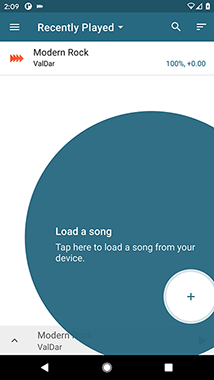 Using the waveform
When you open a track a waveform will load. Once you press play this will highlight to show where you are in the track.
Click on the waveform to skip to a particular point in the track.
Pinch and zoom to get more detail. Press the zoom icon to view the whole waveform.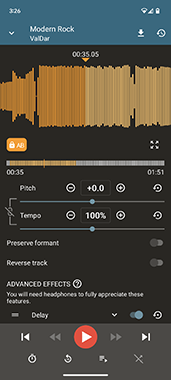 Press the loop icon to get the track to automatically repeat once it has finished.
Setting markers and loop points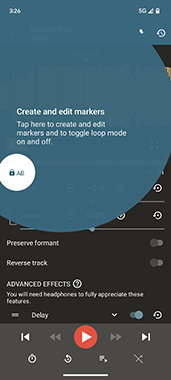 You can add markers to any point in the track. Press the orange AB icon to bring up the marker controls. Navigate to any point on the waveform and then press + to add a marker. You can also edit the markers from here or choose markers to loop between.
Drag the markers to move them to a new position.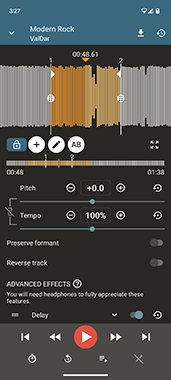 Changing pitch and tempo
Swipe up to reveal the pitch and tempo control screen. Here you can use the slider or numerical input to change the tempo and/or pitch.
Press the reset icons to return the track to its original state.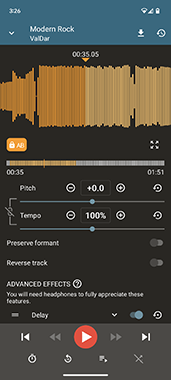 Saving settings/export updated track
Tap on the download icon to export your updated track. You can export in mp3 or m4a format.
You can also save the settings you have put into the app for access later by tapping on the settings icon on the right hand side of the top action bar.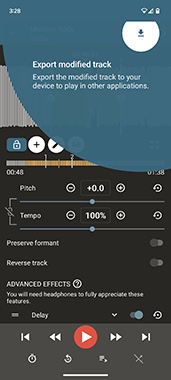 Advanced Features
In the pro version of Up Tempo you can also add the following effects to a particular section of the track or to the track as a whole:
Mute Bass/Center/Sides

Equaliser

Pitch/Tempo

Compressor

Reverb
Find out more about Up Tempo advanced features.
Can I request a new feature?
Definitely. We keep a log of all requests and try to implement them where we can. If you have a request please get in contact with us at [email protected]